What To Look For In A Cold Pack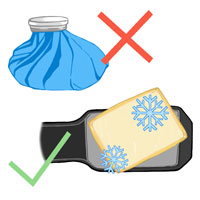 Having lots of gel packs and ice wraps out in the market it's hard to decide ultimately which is the best product for your needs. Everyone claims to have the best gel pack out there, that's superior to anyone elses, and they list all of the positive attributes that coincide with their wraps. To help consumers purchase exactly what they are looking for, this page has been created to list all of the qualities that people look for in an ice pack and we will help explain further, what to look for and what to stay away from. Take a look at our collection of the most popular back ice packs, and what we thought about them when we took them for a test spin. Click here for ratings on Back Cold Wraps.
Reusable vs Disposable
There is a time and place for both types of cold packs. The disposable cold packs that are out there are stored at room temperature and go through a chemical reaction when broken. They use an endothermic reaction between water and ammonium nitrate to achieve cool temperatures rapidly. While this is convenient during an emergency situation, it is very expensive to maintain.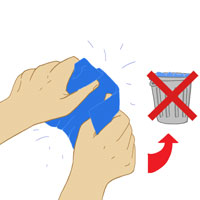 Reusable gel packs are stored in the freezer and can be ready in as quickly as a half an hour. If cold therapy is prescribed, having reusable gel packs in the fridge are highly recommended to cut down cost, and storage space. The quality of the reusable gel packs are much better as well because they've been designed with repetitive use in mind and therefore often get more targeted even cooling than with the disposable gel packs.
Comfort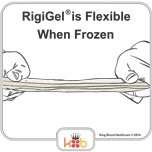 When looking for a good gel pack, one of the key features is comfort. You want to look for something that's firm and supportive, but when frozen will still be flexible. There should be no sharp edges around the gel pack, and even when room temperature it should still hold it's form. This will allow for the gel pack to form to your body, providing superior pain relief.
Longevity Of Cold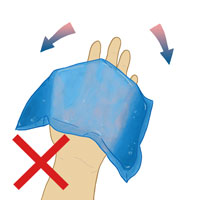 A single cold therapy session should last only 20 minutes as a rule of thumb. When using gel packs out of the frezer, you will need to give your body a rest so you won't obtain cold burns from the gel packs. A good way to tell whether a gel pack will stand the test is by the shape of the gel pack. If your gel pack has little pockets of liquid or gel inside, then each individual gel section will only have a couple minutes of cooling time. A single gel pack will allow the heat of your body to evenly transfer throughout the gel allowing for the gel pack to warm up a lot slower.
A gel pack that is mainly liquid will give you hot spots as pressure is applied to the gel pack, as the gel will take the lane of least resistance and move out of the way of the pressure, now leaving a spot that will not be cooled. These more liquid gel packs will also sweat as it warms up, as a thicker gel based one will not. This will save having to purchase a 'sweat free cover' for your gel pack.
Firmness When Frozen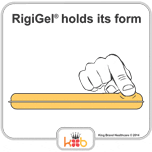 Firm yet flexible is what to look for. Firmness will ensure that the gel stays where it is supposed to be during the treatment, and won't give you any hot spots. Flexibility is necessary to be able to have the gel form to the shape of YOUR body. Everyone's body is different, and if the gel won't form to your specific shape, then you're not getting the proper cold placement to heal your injury.
Thickness of Gel Pack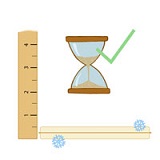 Having a thick gel pack is important to help lock the cold inside, so you can reach the end of your 20 minute treatment with a gel pack that's still cold. Look for a gel pack that's atleast half an inch thick, this will ensure that there is enough gel to keep the injury cool. The thicker the gel pack the longer the cold will last. Remember to look for something that's also flexible.
Coverage Area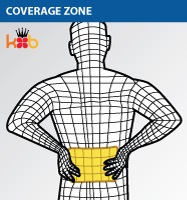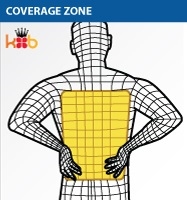 In a world where 'one size fits all' this is most definitely not true for gel packs. Of course, with time and effort, you could treat the entire area... but why waste time! It's important to know your injury, and treat accordingly. Finding a gel pack that fits the entire length of the injury will help ensure that the inflammation will be controlled evenly, therefore speeding up healing times.
Multiple Gel Packs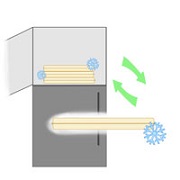 When treating an injury, cold reduces inflammation. The quicker you apply cold to an injury, the quicker it will start to heal. Doing treatments with gel packs out of the freezer is one alternative to get rid of inflammation, but with multiple gel packs that have been cooled in the fridge, you can do continuous treatments without taking a break. Looking for a gel pack kit that has multiple gel packs in it will help reduce inflammation a lot quicker.
Additional Reading and Links
Copyright 2011-2023 King Brand Healthcare Products® Limited. All Rights Reserved.
Meniscus Injury Treatment,
Muscle Injury Treatment,
Neck Injury Treatment,
Plantar Fasciitis Injury Treatment,
Shoulder Injury Treatment,
Tendon Injury Treatment,
Wrist Injury Treatment,
BFST Wraps,
Blood Flow Stimulation Medical Devices,
Blood Flow Stimulation Therapy,
Blood Flow Stimulation Wraps,
LCL Injury Treatment,
MCL Injury Treatment,
ACL Injury Treatment,
PCL Injury Treatment.
Copyright 2011-2014 King Brand Healthcare Products® Limited. All Rights Reserved. King Brand
®
ColdCure
®
Cold Therapy ice packs and gels are the best solution to your back soft tissue injury. King Brand
®
ColdCure
®
RigiGel
®
Back Wraps hold the cold longer, stay in place and are safer than any other product. Treat your back pain with King Brand
®
for the best results.